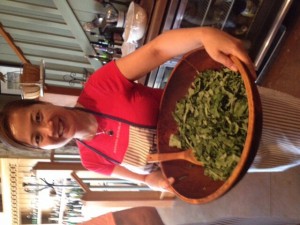 I treated myself this month and took a cooking course all the way up in Camden, Maine for a few days.  Initially, I was nervous because I wasn't sure if everyone in class was going to be uber amazing with their cooking skills, but as it turned out, everyone in class was very humble, friendly and open to learning.  Hands down, this was the BEST cooking course I had ever taken.
Reason #1:  We got to pick our own vegetables from their garden to make our food.  Not only was Salt Water Farm cooking school right on the water with a distracting gorgeous view, a beautiful expansive garden surrounded the building.  Yes, get on your hands and knees and start picking the kale, lettuce and herbs – we have to make a garden salad!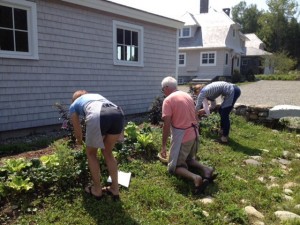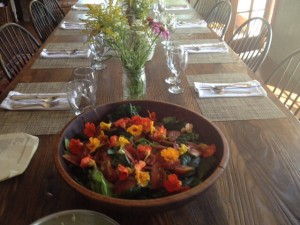 Reason #2:  The cooking class was more than just cooking techniques and knifing skills.  We also discussed the importance of good organic eating and how best to buy the right products that are the healthiest for us and the environment.  (mental note:  remove Kraft macaroni and cheese from my cupboard – pronto)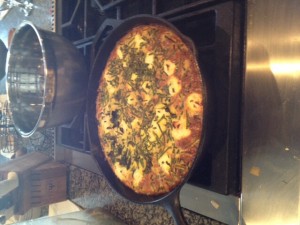 Reason #3:  The instructor Annmarie was so patient as us "type A" New-Yawkers and Bostonians in the room peppered her with questions all at once.  She was so patient and she always answered with such great detail.  I learned a lot!  Including how to make the crust on this delicious blueberry pie.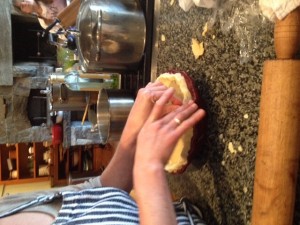 Seriously, it was the best blueberry pie I've ever had.  When we all had sat down to eat later, I was tempted to get a second piece but I didn't want to look like a pig!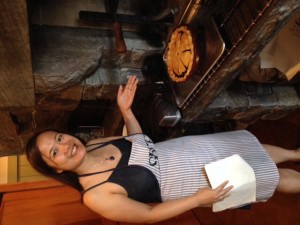 So overall, the class was great and I learned a lot about seafood and cooking procedures.  Did you know that you can bake a fish in the oven for just 6 minutes and then it continues to cook for a few more minutes after you take it out of the oven?  all this time I've been over-cooking my fish and smelling up the apartment.
The best part about the course was that I never felt it was too complicated or difficult to replicate at home.  Super easy and I can't wait to try the recipes at home.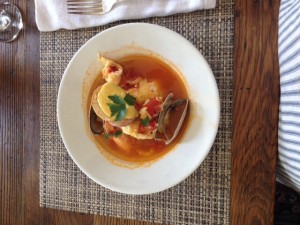 One last note…I almost didn't make it to this course.  Why?  I was faced with taking a small 6-seater plane from Boston to Rockland and I freaked out.  I was so afraid!  Alas, good weather and a patient pilot who let me sit behind him on the plane, plus an elderly woman who held my hand saved the day and I arrived safely to take my cooking class.  Yeah!