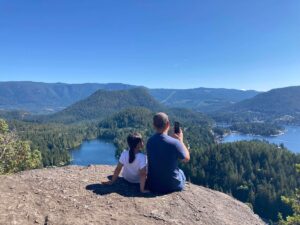 Someone asked me recently, "Do I miss traveling?" And I paused and thought it was a tricky question. I don't miss the lineups at the airport. I don't miss feeling jet-lagged. I don't think I would even like all that hassle now with the mask-wearing and the covid-testing. What do I miss?
I miss exploring a new city, a new culture, a new anything.
I miss hearing a different language spoken all around me as I cruise through an open market.
Most of all, I miss the EXCITEMENT in my heart to explore and FEEL ALIVE again.
We feel fortunate to still travel locally, and it's been a beautiful experience visiting the mountains and lakes near Vancouver where we now live.  Next year?  Our hope is to travel internationally soon, perhaps to the cozy side streets of Japan's rural countryside or to visit an awesome art museum in France again…
Where do you want to travel?  What do you miss the most about traveling?