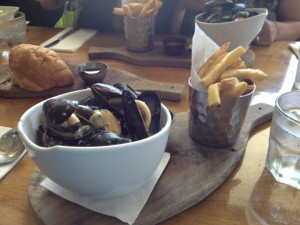 One of my favorite pastimes when I visit Vancouver is EATING at all my favorite restaurants.  I tick off the food on my "to eat" checklist during my limited days in Vancouver.  Plus I pair the eating with meeting family & friends, and voila!  I couldn't be happier.
1.  Best Mussels Ever – Blue Canoe (Steveston, BC)
When my sister Sharon and I first tried these itty-bitty pieces of heaven last year, I demanded that we come back again.  The mussels in cream sauce melted in my mouth.  We were told that their seafood including their mussels are caught fresh every morning and with the restaurant right on the Steveston dock, you can't get fresher than that.  The fries were also fabulous.
2.  Best Value for Breakfast – "The Boss" or Dai Ban (Metrotown or Chinatown)
My mom and I have been going to "The Boss" for years, just for breakfast. Where else can you get two fried eggs, a small piece of steak, a breakfast bun, a small bowl of noodle soup & a tea for $6.50? This Hong Kong style cafe reminds me of NYC diners with the multi-page menus serving all kinds of international food 24 hours a day.  To top it off, the food tastes excellent and it's mine and my mom's favorite breakfast place when I visit.
I remembered years ago when my hubby Eduardo first went to Vancouver to "meet the parents".  He must've passed with flying colors because my mom pulled me aside after the first day and said "Let's take Eduardo to 'The Boss' restaurant."  The rest is history.
3.  Best Exotic Hotdog – the Japadog Food Truck!
Admittedly, when I heard that Vancouver now has a Japadog food truck, I found it odd.  So off we went to check it out in Kitsilano, where the brightly colored truck sat on the curb.  I perused the menu.  Shrimp tempura nestled between 2 buns? (My niece Jadyn tried it – not too bad!)  Yaki soba in lieu of the hot dog?  I finally picked the one I did want called "Okonomi" with teriyaki sauce and bonito fish flakes that decorated the juicy sausage.  My sister Sharon tried the Terimayo with teriyaki sauce, seaweed and mayonnaise on top.  Yum!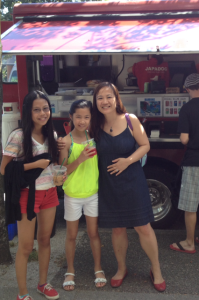 The list goes on and on…chances are you'll get a fab meal at most places in Vancouver.  Richmond is famous for their Chinese cuisine and it's also very affordable. Sushi restaurants galore – Ebisu in Richmond and Vancouver is a crowd-pleaser.  I also dined at a tiny local sushi place in Dunbar with my friend Jenny and the fish was so fresh and tasty that I didn't want to leave.  East is East has the best chai tea and my sister Sharon and I loved their lunch  thali specials.  Ahhhh….Vancouver never disappoints!