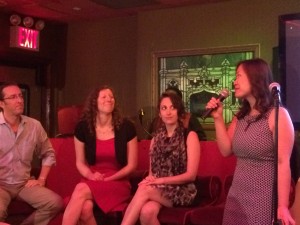 What do a wandering yak, a marooned couple with a jetski and a sad Laotian woman reminiscing about the war all have in common?  They are stories from The Same Sky Cafe: Travel Readings from Debbie & Friends.  And what a turnout!  62+ people showed up to celebrate our evening of storytelling on June 17th in NYC at the K-Lounge, a comfy lounge with delicious Indian food.  I shared readings from my published travel memoir The Same Sky including a harrowing yet intriguing story about how I got arrested in Tibet.  There were fab readings from CeCe Yuan about a Paris mishap and  Mackenzie Miller who read a delightful piece about self-reflection and traveling.
Then Sandra Pike took us on a photo journey to Cambodia and Burma, peppered with heartwarming stories along the way.  The Mom Wong Monologue was also a hit as I highlighted the comical yet realistic cultural divide for an immigrant mom raising her children in Canada so many years ago.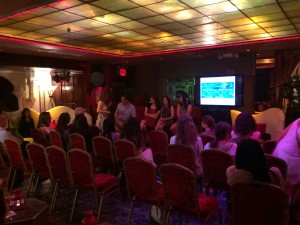 And the panel moderated by Alex Damian, fellow Canadian, was very interesting as we heard about Kathryn Cooper's intrepid journeys to far-flung locales while Kristin Fields' hilarious yet heroic navy rescue during a not-so-great cave trip drew giggles from the audience. ("What do you mean your rescuers wanted to be paid by credit card??")  I also described a silly story about how I was stuck in a tiny town in Burma and the whole village turned up for a pig roast in honor of our visit.
My highlight?  That it was an evening that touched us differently.  One woman shared how she felt inspired to travel to a remote off-the-beaten-track country soon.  Another person wrote that my reading about a Laotian woman who revealed her suffering during the Vietnam War reminded her of the bravery of those in war-torn countries "who remain compassionate, generous and determined.  I think we need to be reminded of the ability to overcome adversity and bitterness and still interact with fellow occupants of this planet."  Great email!
Finally, a really touching moment:  I met a Canadian guy at the end of the evening as we were all shuffling out of the K-Lounge.  He asked to buy my book The Same Sky for his sister who is facing a similar situation of a breakup and the quest to find oneself, the main theme of my book.   Later, he sent me an email: "I walked away from that evening with a real sense of connection with you and your fellow panelists…and the mindset behind the decision-making to set out on a journey, to move forward and the many discoveries found along the way."
Wonderfully written!  The whole purpose of the evening was to bring artists and travelers together to share the beauty of traveling and self-discovery so that we can open our hearts to other cultures.  I'm pleased that we accomplished our main goal for many who attended the evening.  More travel storytelling events to come!