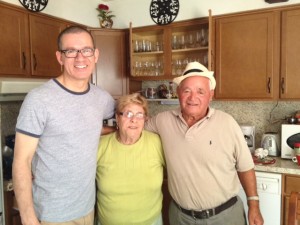 As soon as we walked in the door, Cezare shouted enthusiastically:  "Please, sit down!"  "You must stay for a long time!" and "Please, you will have lunch with us!"  Then came the food:  BBQ pork ribs, cheese, salad, bread and saucisson.
"Oh my god, we just ate at IHOP.  I can't eat any of this," said my stepdaughter Prescilla through clenched teeth.
"Ssshh," I said.  "Let's be nice to Daddy's friend.  They haven't seen each other in years."
Earlier that day, we were driving through Matawan, NJ where my husband Eduardo had lived for 12 years during his previous marriage.  So many memories, I thought as he pointed out his old hang-out spots.  Then we drove past a house with its neatly manicured lawns and colorful flowers that decorated the front.
"He's alive!" he said.  "Let's go in and visit."
Cezare was Eduardo's neighbor and their back lawns used to be connected.  At 85 years old, Cezare was still strong as an ox and cared for his garden long after retiring as a landscaper. For more than a decade, their friendship strengthened.  After spending hours doing yard work, the men would relax and chat over homemade wine and eat his famous grilled Sicilian ribs.
Then over time, as his marriage started to disintegrate, Eduardo spent less time taking care of his backyard.  Cezare saw less of his friend, and then the visits stopped altogether when Eduardo moved away to NYC.  That was eight years ago.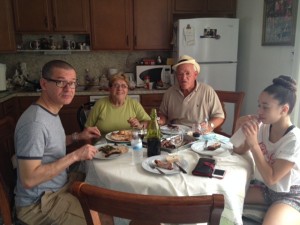 Cezare couldn't stop beaming the moment we walked in.  First the look of surprise at seeing his old friend after all these years.  Then a flurry of English, Spanish and Italian words as they caught up on each other's lives.  They understood each other and that's what mattered.  Eduardo looked so happy to be reunited with his old friend.
When Cezare first greeted me, he pulled me close and kissed me on the cheek.  Then he shook my hand so firmly that I thought it was going to fall off.  He looked great for his age and I could tell from his tanned face and weathered skin that he still spent most of his waking hours outside taking care of his beautiful garden.
His wife Maria was lovely too – she was a plump Italian mom who couldn't stop serving us food.  "You married good man," she told me with her thumbs up.
During our meal, in broken English, Cezare shared about his grandson getting married and how it was harder for him to get around and take care of his garden now that he was older.  "Your baby?" he asked, probably referring to how Eduardo had a little baby at the time.  He laughed and pointed at Prescilla, "She's not a baby anymore.  She's 14!"
After much eating (after all, it was our second lunch!), and  as we were getting ready to leave, Cezare looked pensive.  He quietly asked what had happened.  Eduardo said that back then he had to leave, that his marriage had ended and he needed to move on.  I sensed the feeling of loneliness that Cezare must've felt years ago when his friend had left without saying goodbye.  And that for many years, he probably wondered if Eduardo was happy and If he'd ever see his dear friend again.  He was like a son to him.
Then Cezare patted Eduardo on the back and said, "Ah you happy.  You have new family.  Good!"  Then he boomed out an Italian phrase with the words "prima vida" over and over again as we headed to the car.
Later I asked Eduardo what Cezare had said before we left.  He grinned and said, "After a difficult period, sometimes you reach the prime of your life."
Yes, I think that's true.