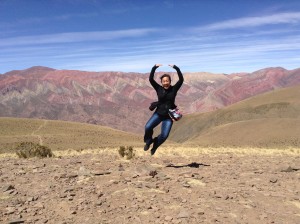 We were in Argentina to celebrate our 2nd year anniversary and I felt really blessed to be in such an amazing country with my hubby.  On our actual anniversary date (Aug 30), we took tango lessons!  How fun…and awkward as we tried to master a few steps in a 90-minute lesson.  It was great fun!
Another highlight of the trip was traveling north to Humahuaca (5 hours north of Salta) to see these beautiful multi-colored mountains, slowly erroded over thousands of years.   Pretty impressive.
We loved our time in Argentina with the architecture in Buenos Aires reflecting its European roots. The locals were always so generous and friendly, and the markets were alive with handicrafts and odd trinkets like knives with an eagle claw as a handle.  After visiting the northeast and northwest as well as Buenos Aires, we hope to be back one day perhaps to travel south to Patagonia to visit the penguins.