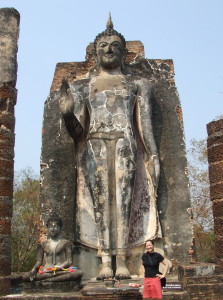 As people flock to temples in Asia, some new, some old where the beautiful sculptures are still relatively intact, I like to hang around the ruins that look like…well they look like ruins.  Temple columns with exposed bricks.  Heads of Buddhist statues lopped off.  Faint resemblance of a sculpted story of a battle chiseled on a temple wall.  I enjoy marveling these ruins so that I can wonder "What was once here?  How majestic had this looked back in the day?"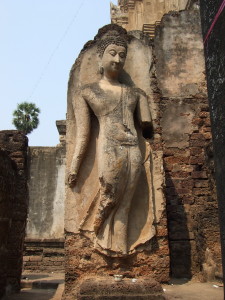 In the Sukothai Historical Park in Thailand, I discovered temple ruins with gigantic statues of Buddhas, Boddhisatvas and also elephants, all of which had seen their heyday back in 12th – 13th Century.
The beauty of traveling to Sukothai is being able to view a snapshot in time of this once great palace area resplendent with colorful statues and walkways.  Now it's a UNESCO heritage site for thousands of tourists every year, and it's a quiet tourist destination that is often overlooked on the map for those in favor of Chiang Mai, Bangkok or the number of gorgeous islands in Thailand.  I loved my brief time in Sukothai as I wandered around and imagined the hustle and bustle of this once great kingdom that ruled for 200 years.