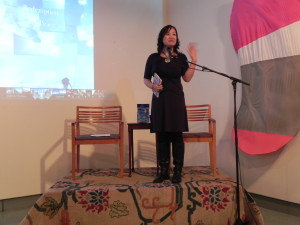 My book launch of THE SAME SKY last Friday was a big hit!  I remembered how nervous I was in the days and then the hours leading up to my event.  And as I saw more and more people stream into the Tibet House, I relaxed. I felt warmed by all these people I knew over the years from all facets of my life. And that TODAY was the big day to release my book to everyone. It is finally the end of a long literary journey, and the start of a new beginning for THE SAME SKY, which has been "my baby" as I've watched it develop from an idea to a full fledged memoir.  To me, the book is grown up now and ready to explore the world!
Three highlights:
1.  When I came to New York in 2000, I didn't know a soul.  So I was thrilled to see that so many of my friends I've made over the years turn up to show their support.  Some of them I haven't seen in years including work colleagues (former and current), writer circles, Canadian expatriates, biking team members, hair dresser, strength trainers, and neighbors.  Many came as far as Washington DC, Vancouver, North Carolina and Prince Edward Island.  Wow!  Their beautiful smiles in the audience reminded me of how all of us touch people in their lives, and they in return have a soft spot in our hearts.  Heartfelt exchanges I had with the locals during my trip are just as special as the friendships I have made here in NYC and I'll never forget them.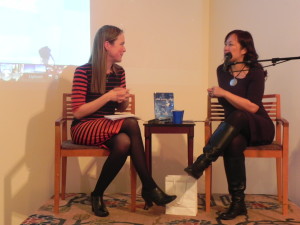 2.  What an interactive event!  I wanted to ensure it was a creative evening with lots of readings, including Q&A which my best friend Jenny helped host.  Well done! I read several excerpts from THE SAME SKY and then I invited other readers to share their stories from traveling to Saudi Arabia and Mali.
3.  Since the event, a few have reached out to me to share that they feel inspired to travel to Southeast Asia.  Wonderful!  One woman described how she recently suffered a breakup and would like to read THE SAME SKY as a way to reflect on her situation and rediscover herself again.  Good for her.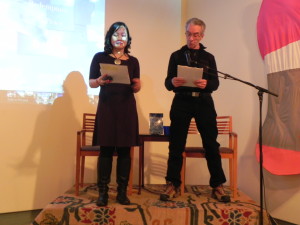 Interesting facts and figures:
-110: actual number of attendees! (we planned for 70!)
-60:  number of gyozas or dumplings I made
-33:  books sold!
-12:  bottles of wine that were gone at the start of the event
-10:  years to write the book and another 3 to publish it
-4: readers who shared a portal of their lives
-3: Buddhism books I gave away during the raffle
-2:  references to my mother (in THE SAME SKY reading and also Mom Wong)
-1: awesome and successful book launch!
What's next?  Stay tuned for more readings in NYC and elsewhere, even a debut of Mom Wong, a monologue that describes the hilarious yet poignant perspectives of immigrating to Canada.
If you missed it, here's the book launch on YouTube:  THE SAME SKY BOOK LAUNCH VIDEO
Thanks again for all your support over the years!